August 30, 2010
(Stockholm, Sweden)
— A series of presentations here at the
European Society of 2010 Cardiology
Congress
emphasized how even moderate regular exercise can reverse the damage of existing heart disease while also preventing it.
In one such study, from a session entitled "Exercise: From leisure activity to a therapeutic option
,
"
Dr Brage Amundsen
(Norwegian University of Science and Technology [NUST], Trondheim) explained how his group is learning how to improve heart-failure patients' peak oxygen consumption (VO
2
). Low peak VO
2
is a driver of poor prognosis in postinfarction heart-failure patients, he explained. The NUST group has conducted similar studies on the benefits of interval training for patients with metabolic syndrome.
Amundsen's group is preparing the randomized SMARTEX-HF study comparing aerobic interval training with moderate continuous training in about 200 patients. The interval-training regimen is built on four four-minute intervals walking on the treadmill at 90% to 95% of peak heart rate, with three-minute "active pauses"--walking at 50% to 70% of peak heart rate--between each interval. Including warm-up and cool-down periods, the total workout lasts 38 minutes. Patients in the moderate continued-training group will walk continuously at 70% to 75% of peak heart rate for 47 minutes.
Preliminary studies show that patients using the interval regimen improve their peak VO
2
by a much larger margin than the moderate continuous-training group and that patients in the interval-training group exhibited reverse left ventricular remodeling, reduction in pro-B-type natriuretic-peptide (proBNP)--a marker of hypertrophy and severity of heart failure--and improvement in left ventricular ejection fraction. In vitro cell studies showed that interval training was associated with a reduction of endothelial-cell volume, and functional measures of single myocytes indicate improvements to muscle contractility and oxygen consumption in the interval group.
"A lot of people think this [high-intensity exercise] must be very hard, so we have to be a bit more realistic and inform the patients that it's not that hard and that anybody can do it," he said.
A Role for Strength Training
In a separate presentation,
Dr François Carré
(Hôpital Pontchaillou, Rennes, France) described research on a variety of exercise modalities showing that cardiovascular patients benefit from strengthening large muscles in addition to aerobic exercise, so "well-done" resistance training should be encouraged on top of aerobic exercise. His group's research has shown that the benefits of exercise generally far outweigh the risks for cardiovascular-disease patients, but exertion does increase the risk for cardiovascular adverse events, "so the physician must evaluate the individual risk, propose an individual program, and give a good education to the patients."
As well,
Dr Rainer Rauramaa
(Kuopio Research Institute of Exercise Medicine, Finland) presented research that suggests regular moderate-intensity exercise ought to be considered a "cornerstone" in the treatment of hypertension even if the impact is modest.
Early studies suggested that exercise did not improve resting blood pressure, but a more detailed look at the data showed that genetic factors play a major role in determining the response of a patient's blood pressure to exercise. Rauramaa's group also found that exercise's influence on blood pressure lasts only a few days, so the earlier studies may have simply missed the benefit of exercise by measuring the patients' blood pressure several days after their last exercise. His group found an improvement in carotid intima-media thickness in patients who exercised, but the improvement did not appear until three years into their study.
"There was a clear antiatherosclerotic effect of exercise." He pointed out that the antihypertensive benefits of exercise can be achieved even without weight reduction.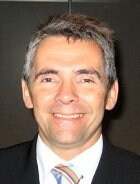 Dr Rainer Hambrecht
Finally,
Dr Rainer Hambrecht
(HerzzentrumBremen, Germany) presented unpublished results from the
PET Multicenter
study. As reported by
heartwire
, that study, showing that 12 months of exercise training was just as good as PCI for myocardial perfusion and symptom relief in patients with stable angina, had to be stopped early due to slow enrollment, but the data from the patients who were enrolled plus the results from a small pilot study show that both strategies improve myocardial perfusion, angina threshold, and exercise capacity. However, only exercise improves endothelial function and slows the progression of disease, because PCI is only a local palliative therapy, while exercise training has an impact on the underlying disease in the entire coronary tree, Hambrecht said.
"I would be happy if I could convince everybody with coronary artery disease to participate in a moderate exercise program," he said. He recommends patients stick to the professional guidelines by exercising three or four times a week, 30 minutes per session, at moderate exertion. He cited previous studies showing that patients who attempt to exceed that effort are at increased risk for potentially lethal arrhythmias.